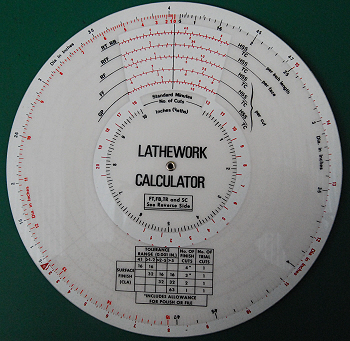 Continuing on from the previous page, the first fourteen charts on this page are part of a job lot of 16 that I bought in 2020. They all have a mechanical engineering theme so are of particular interest to me.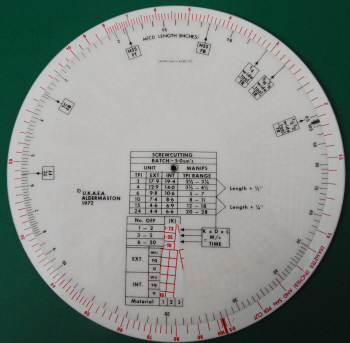 Lathework Calculator made by Smith's Calculators Ltd ©UKAEA Aldermaston 1972. It is plastic, double-sided, with a rotating disc each side and is for calculating the machining time for turning and screw-cutting allowing for material type being turned, tolerances and finish, and tool material.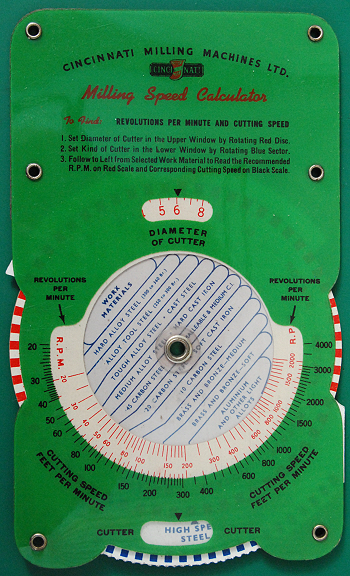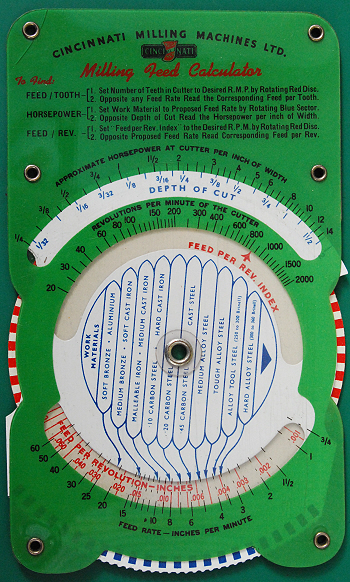 Cincinnati Milling Machines Ltd Milling Speed Calculator. It is double sided plastic with two rotating discs, one partially cut away, inside. The instructions are printed at the top. The first side is used to find the recommended cutter rpm and cutting speed in ft/min for the work material ad cutter diameter. The second side is used to find the HP required and the recommended feed rate in inches/min given the number of cutter teeth and depth of cut.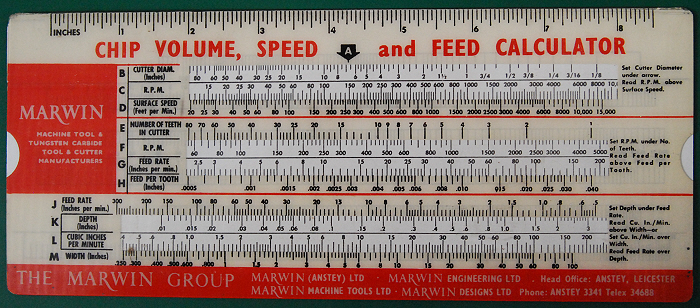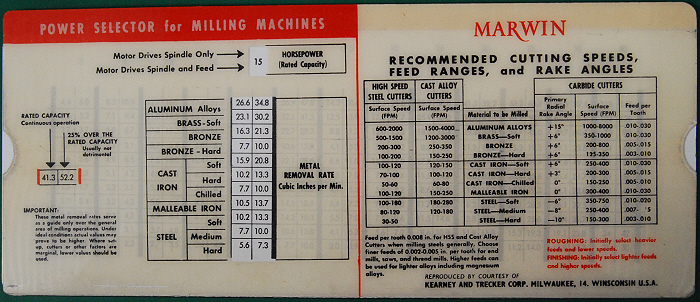 Marwin Group milling calculator, double-sided, plastic slide chart. The first side is for calculating chip volume, speed and feed. The instructions are given along side for each part of the calculation. The second side has a power selector for milling machines based on the material and metal removal rate, and also a table of recommended cutting speeds, feed ranges and rake angles for different work-piece materials and cutter types. Imperial so ca. 1950s/1960s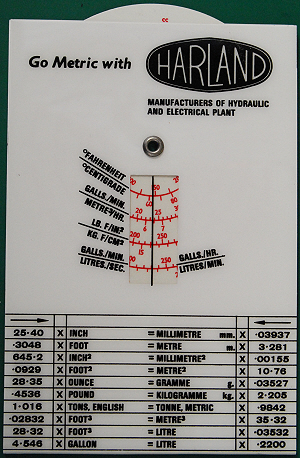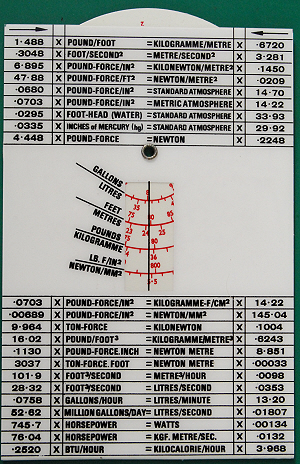 Harland metric converter. Double sided plastic with single rotating disc. The rotating disc can be used to convert directly the most frequently used, basic units whilst the tables give the conversion factors for a wider range of units incloding those of force and power.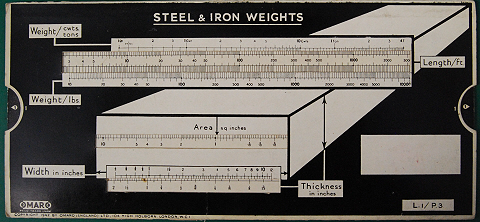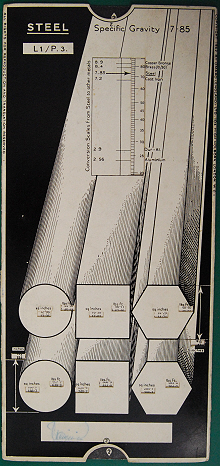 Omaro L1/P3 weight calculator for steel rods and steel & iron weights. It is made of card and ©1942. It is one of a series of weight calculators by Omaro. A P1 can be seen on the previous page and there is a P2 below.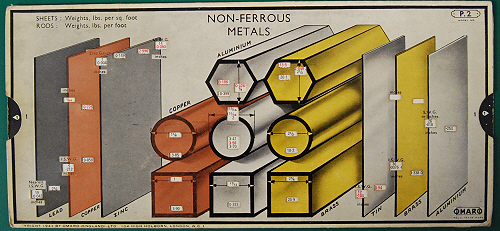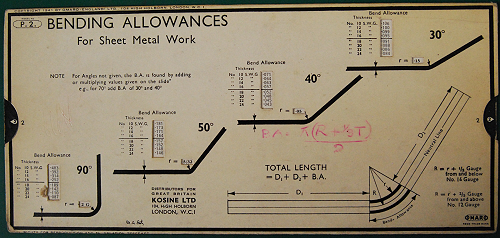 Omaro P2 weight calculator for non-ferrous metals sheets & rods. On the reverse is a chart for finding bending allowances for sheet metal work. It is made of card and ©1941


Atlas Steels Weight Calculator made from card by Perrygraf, The units are Imperial. The upper side is fpr plates, flat bars, strips and sheets; angles; bar stock; and structural shapes. The lower side is for circles and rings. There is also a table of US Standard Gauges.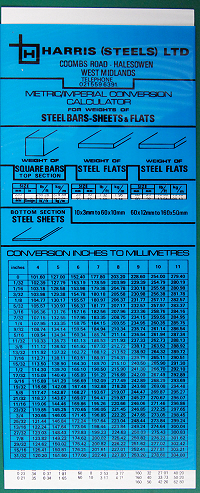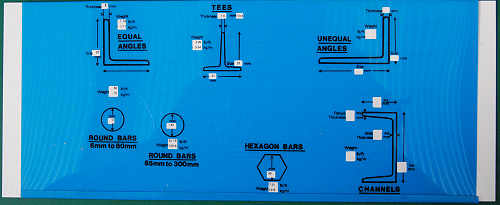 Harris (Steels) Ltd Metric/Imperial Conversion Calculator for Steel bars - sheets & flats. Both the dimensions and weights are in both metric and imperial units. On the reverse are round and hexagonal bars, and structural shapes. Plastic slide chart made by Abbot Brown, Beaminster, Dorset.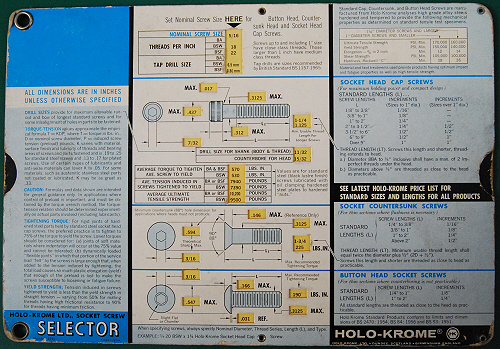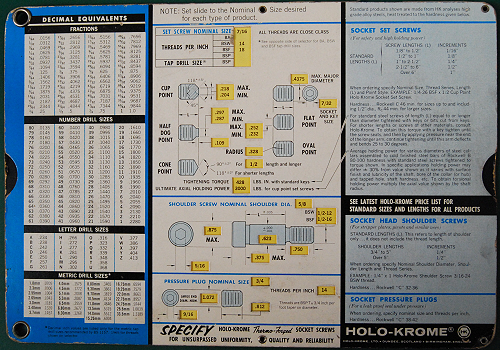 Holo-krome Ltd Selector for BA, BSF and BSW Socket Screws. Besides giving the dimensions of the selected screw it also gives the average torque to tighten the screw to yield, the average tension induced by tightening to yield and the average ultimate tensile strength as well as tapping and clearance drill sizes and threads per inch. There is comprehensive guidance on screw selection and there is a table of decimal equivalents for fractions and number, letter and metric drill sizes. This card slide chart was made by Perrygraf, ©1971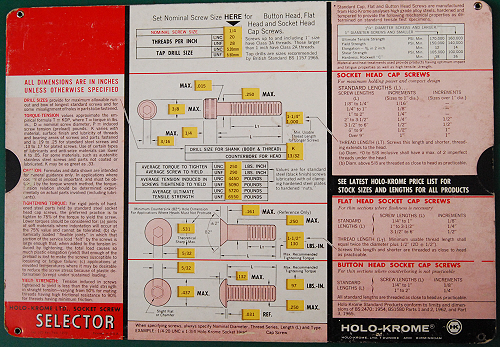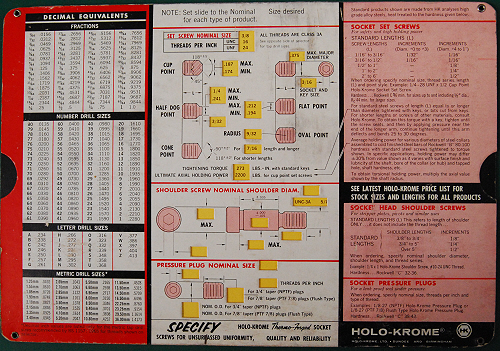 Holo-krome Ltd Selector for Unified Socket Screws. This is the Unified equivalent of the BS one above covering UNF and UNC threads. Made by Perrygraf in card ©1969, Rev. Feb 1970.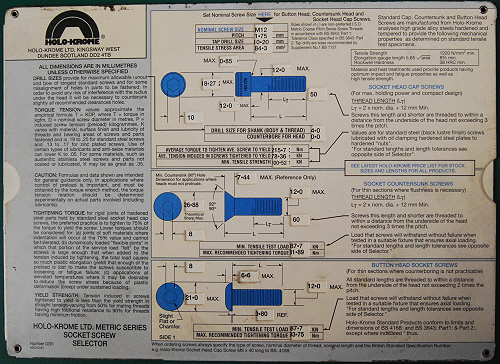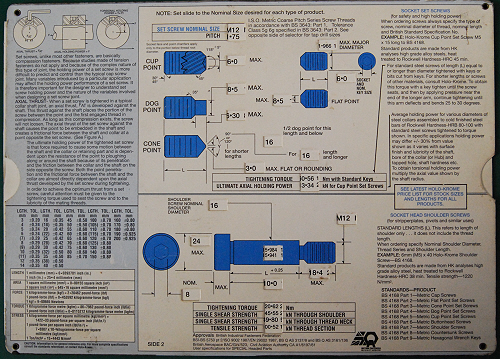 Holo-krome Ltd Metric Series Socket Screw Selector. Essentially the same as the previous two, the guidance notes have been added to as there is no longer a decimal equivalents table. Made by American Slide Chart Co, ©1994 Holo-krome Ltd.
Number 0291, ASC10161.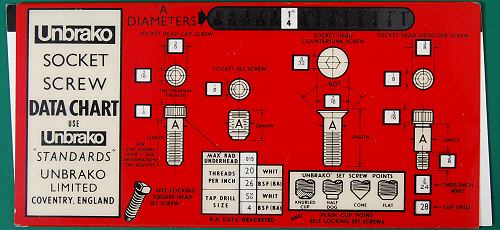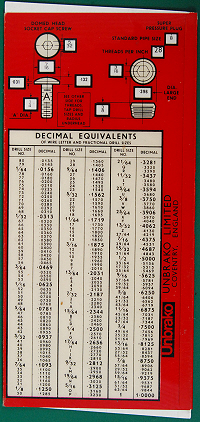 Unbrako Socket Screw Data Chart for BSW, BSF and BA threads. It also has a table of decimal equivalents for fractional, number and letter drills. Plastic slide chart printed in Italy for St Martin's Sale Aids, London WC2.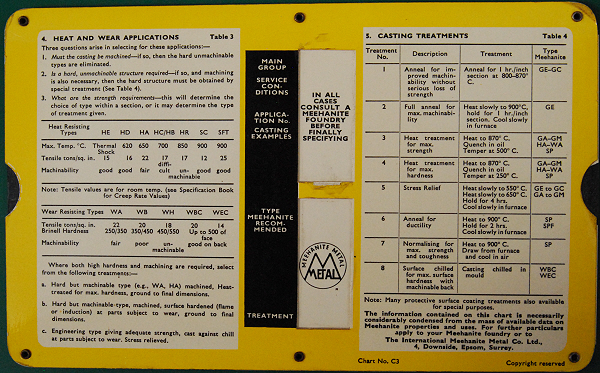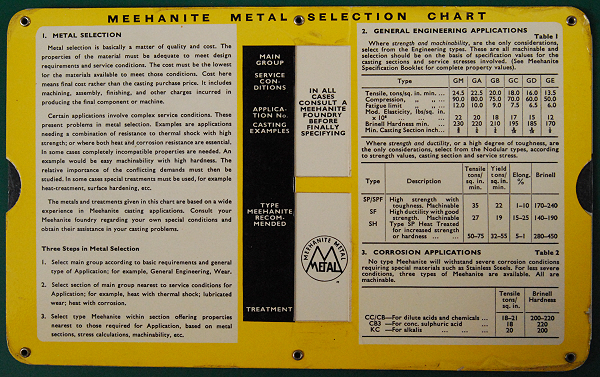 Meehanite Metals Chart No C2 Meehanite Metal Selection Chart. Provides a facility for selecting the appropriate grade of Meehanite Metal for the application and considering casting treatments. Moving the slide gives selection recommendations for various applications.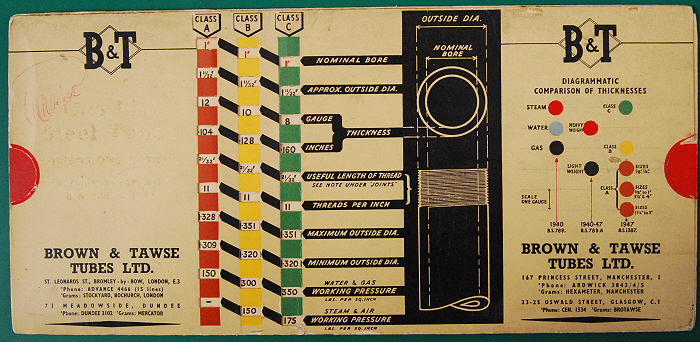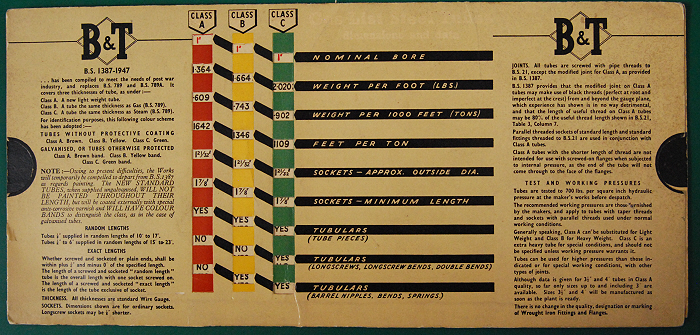 Brown & Tawse Tubes Ltd card slide chart providing information on their range of tubes to BS1387 (1947). Information provided includes dimensions, weight, working pressure, thread details and details of available fittings. Probably ca.1950.